week one
Tuesday August 21
Welcome to Our Class
Introductions to each other and the course

Thursday 8/23
Introductions of new students joining the class
Jim Ekins from UI Service Learning Office, and
Dara Wilson, your Mentor for this course.

"News from Indian Country" reports
Indian Country Today
Neil Discovers the Moon by Steven Paul Judd

week two
Tuesday 8/28
Report: news from NDN country: Allison and Dom
Film: More Than Bows and Arrows
Everything About Indians You Wanted to Know But Were Afraid to Ask
Pages 1 - 86:
Click on the links below, download them, print it out, read and make notes, and BE SURE TO BRING THEM TO CLASS:
PDF for pages 1 - 38 PDF for pages 39 - 67 PDF for pages 68 - 85

Read actively: mark your text, make notes of what strikes you; your gut reactions give you things to think and talk about. Bring your book (or the pdfs) to class with you. Always bring the assigned text to class with you.


Thursday 8/30
news from NDN country report: hannah and david
EAI, pp 87 - 127
Join a different group today
Groups report
week three
Tuesday 9/4
EAI, pp 128 - 164
Show me what you've learned (discussion, then written essay)

learning to see the indigenous world
Thursday 9/6
Lil'Wat Principles of Teaching and Learning
Cwelelep: being in a place of dissonance, experiencing uncertainty in anticipation of new learning, to spin like a dust storm.
Kamucwkalha: the felt energy indicating group attunement and the emergence of a common group purpose. Group is ready to work together, to listen to one another and speak without fear.
Celhcelh: each person is responsible for his/her learning. It means finding and taking advantage of all opportunities to learn and maintaining an openness to learning. Each person must take the initiative to become part of the learning community by finding his/her place and fitting into the community. It means offering what knowledge and expertise you have to benefit the communal work being carried out.
Emhaka: each person does the best he/she can at whatever the task and keeps an eye on others to be helpful. It means to work respectfully and with good thoughts and good hands.
Responsibility: each person is responsible for helping the team and the learning community to accomplish the task at hand in a good way, entering the work clear of anger and impatience.
Relationship: throughout the course each person will be conscious of developing andmaintaining relationships—with the people, the task, the teachers and guides, and the communities beyond the learning community. It also means relating what you are experiencing to your past knowledge and to what you will do with what you are learning.
Watchful listening: an openness to listening beyond our own personal thoughts and assumptions, being aware and conscious of everything around you as you focus on the task
at hand.
Axekcal: how teachers help us to locate the infinite capacity we all have as learners. Developing one's own personal gifts and expertise in a holistic, respectful and balanced manner.
Kat'il'a: finding stillness and quietness amidst our busyness and need to know.
Good Hand: to work with positive intent and an open heart.


FILM: We Shall Remain, Episode 1: "After the Mayflower"
Write a response to the film for Tuesday
Critical Thinking
* How to write a response/reaction paper using Critical Thinking Skills
Active reading

week four

Tuesday 9/11
report: news from ndn country: Maggie and Chris

Conclude film: "After the Mayflower"
eReading #1 (eReserve) Ch. 1 "Nez Perce Origins," Ch. 1 in NP Treaty Perspectives
Due in Class: 10 things you learned from "Nez Perce Origins" (typed)
AND
eReading #2 (eReserve) Wilson, Angela Cavendar, "American Indian History or Non-Indian Perceptions of American Indian History?" From Natives and Academics . . . Publ. University of Nebraska Press, Lincoln: 1998. pp 23-26.
Be ready to discuss this in class. Have 3 or 4 ideas ready to contribute to discussion.
How to access these readings:
Articles on Reserve for this class at UI Library eReserve
Username: reserve
Password: Fd73gb
On your computer, go to ui library home page and click "Reserve", go to courses and click on "I" for ISEM. Click on our tribal cultures class link, click on the article you want, then enter username (reserve) and password (Fd73gb), download, print and read the article.



Jaune Quick-to-See Smith (Salish)

Intellectual Premises of NAS/AIS
Significance of Land: source of identity and spiritual power
Historical Agency: Indians are not victims
Tribal Sovereignty
Significance of Language
Role of Aesthetics

Thursday 9/13 *** CLASS TODAY IS IN Education building, room 311 ***

Response to "After the Mayflower" due

Guest Artist/Scholar: Kevin Peters (Nez Perce), Cultural Interpreter from the Nez Perce National Historical Park
"The I'saaptekay and its Significance"

week five
Tuesday 9/18
Readings:
"The Nez Perces' Relationship to Their Land," Sue Whalen
Response paper due with 3 or 4 most important concepts.
excerpt from Salmon and His People, Landeen and Pinkham
excerpt from "The Nez Perce Myth Cycle," Walker
Guest: Nakia Williamson, Nez Perce storyteller


Thursday 9/20
eReading #5 (eReserve) "They Were Trying to Kill Us," from
A Little Bit of Wisdom; Conversations with a Nez Perce Elder, Horace Axtell and Margo Aragon
* Prepare a question for Dr. Axtell
Guests: Horace Axtell and Margo Aragon, authors of A Little Bit of Wisdom: Conversations with a Nez Perce Elder
Tuesday 9/25
eReading #3: "Distributed Power: An Overview"
Discuss guest presentations and readings
Assign Coyote Story
Coyote Story Project: form groups of 3 to create your own Coyote Story on UI campus to illustrate the Indigenous concept "Wisdom Sits In Places"

Coyote, as you know, is a trickster, a transformer and a bungling egomaniac. But he also tries to solve problems and make life better. He always interacts with other animal people, sometimes competing with them, sometimes cooperating with them--even helping them, though he often needs their help as well. He's a genius and a fool. Both community-minded AND exceedingly self-centered. Think about Coyote's attributes and those of the other animal people. Through Coyote stories we learn how "things came to be," such as why Grizzly Bear has a flat nose, and why death is permanent. Through these stories we learn how to survive successfully in our communities and in the places we live.

Your assignment is to form groups of 3 or 4, walk the UI Campus until you find a "place" that you believe can tell a story. How did this "place" come to be? And what lesson does it teach us? Create a story about your "place" that illustrates the concept "Wisdom Sits in Places." Our visitors and readings have taught us that places hold stories that help us. At Celilo Coyote undammed the Columbia River and turned the evil sisters into Swallows. Down along the hillside above the Clearwater Coyote's fishnet is visible: what do we learn from it and story that explains why it is there? I told you the story of Coyote turning the teacher into a bell tower--what can the bell tower and the ringing bell teach us based on that story?

The campus is a "culture" with practices, rituals and they all originate in place (campus) and culture (university practices). The learning goal is for you to "see from the inside out," rethink place and to experience story creation and performance. Turn what seems like "just" a place into a story. What evidence do you find of Coyote and the animal peoples' adventures here?


Thursday 9/27
No class; meet with your group to work on your story

week seven

Tuesday 10/2

Lunch at Native American Student Center: bring $5
Meet outside the coffee shop at the COMMONS

IF YOU DIDN'T COMPLETE eReading #3, be sure the read it and be ready to discuss it.
and
eReading #4: "Nature as a Model for American Indian Stories"



Thursday 10/4 TLC 040 ******** remember on Thursday we now meet in TLC 040
Present Coyote stories

discuss readings

OUTSIDE EVENT (optional):

Monday, October 8th, 2012 @ 5:00pm

In Honor of

INDIGENOUS DAY

The University of Idaho Native American Student Center and the Native American Law Student Association welcomes:


David Gover, Staff attorney, Native American Rights Fund

Presenting:

Tribal Water Rights and the Klamath Basin

The Law School Courtroom Reception will start at 4:30pm

Tuesday 10/9
Quiz on eReadings 3 and 4
Discussion of what you've learned so far
Assign Mid term Self-evaluation paper


Thursday 10/11
No class: work on your midterm, visit the Writing Center

week nine

Tuesday 10/16
Self Evaluation Essay due

making contact: local Indigenous and European peoples

assimilation and holocaust

Kidwell & Velie, Native American Studies, Chap 3 Historical Contact and Conflict and Chap 4 Tribal Sovereignty (PDF)
and
eReading #10 (eReserve): Chaps. 10 & 11, "Coercive Assimilation 1887-1910," "Native American Religion, 1910-1934," pp. 145-165, Indian Country, Joy Harjo and Karen Harvey

Assign Colonialism and its Effects Project
What is Colonialism and How Does it Work?

&nbsp
&nbsp
[Churches] will teach us to quarrel about God, as the Catholics and Protestants do on the Nez Perce reservation and other places. We do not want to learn that. We may quarrel with men sometimes, but we never quarrel about God. We do not want to learn that.
Chief Joseph (Nez Perce), "A Meeting of Former Foes," 1904

Thursday 10/18
documentary films: American Holocaust
A Century of Genocide: The Residential School Experience

week ten
Tuesday, 10/23
responses to Historical Trauma documentaries
discuss readings from 10/16
eReading #6 (eReserve) "First Contact, First Treaties" Chap. 2 from Treaties: Nez Perce Perspectives
eReading #11 (eReserve) "The Traditional Education of American Indian Children," Michael Coleman
eReading #8 (eReserve): Allotment Era, Treaties: Nez Perce Perspectives, pp.50-58
Handout: U.S. Indian Policy and its Impacts
Discussion of The Dawes Act and Indian Boarding Schools

Thursday, 10/25
continue discussion of Coercive Assimilation and Traditional Education of Indians
another media format for your colonialism projects:
How to Make Mini-zines
How to Get Free Land in 5 easy steps
the beginning of the recovery
The Indian Reorganization Act/The Indian New Deal
eReading #7 (eReserve): "The Indian Reorganization Act", Vine Deloria, Jr.
eReading #12 (eReserve): "Shifting Winds of Modern Federal Indian Policy," from Nez Perce Treaty Perspectives

week eleven
Tuesday, 10/30
Stick Game with Coeur d' Alene educator Norma Peone
meet in The Commons, Clearwater Room

Civil Rights/The Red Power Era--Resistance and Resilience


Thursday, 11/1
Review of readings

week twelve

Tuesday 11/6
class cancelled
Thursday, 11/8
Guest lecturer: Steven Paul Judd
12th Annual Distinguished American Indian Speakers Series
7 pm Haddock Performance Hall, Lionel Hampton Music Building
Reception and Art Sale to follow - Everyone invited
week thirteen
Tuesday, 11/13
Colonialism projects due: present them
Assign Summative Quiz: from contact, coercive assimilation and Indian Reorganization
Form groups and plan final project: Problem Based Learning
Broad Course Objectives:
effectively demonstrate your understanding of the 4 Course Themes, and your understanding of Federal Indian Policy over time and its effects on Native people.
Final Project Guidelines:
The purpose of this assignment is for you to demonstrate in your own ways, what you have learned in this class, moving from traditional culture, colonization and resistance/renewal/decolonization.
For example:
traditional culture: what were/are its strengths? how could it be used today to solve contemporary problems faced by all of us, such as poverty, environmental crises, education reform and gender issues such as violence against women?
colonization: what are the major problems caused by colonial ideologies and can you envision alternatives to them? What are alternatives to the ways Europeans settled in the Americas?
Resistance/renewal/Decolonization: How have Native people resisted colonization? How are tribes renewing their cultures? How are Native people and others "decolonizing" themselves?

Format
You must include 3 credible, academic sources at minimum for this project, and provide a Works Cited page: see www.mla.org. Create a Prezi, Powerpoint, or an iMovie Digital Storytelling presentation of between 10 and 15minutes. Include text, image and video clips. If you make an iMovie, it should be about 3 - 6 minutes in length. Dara will provide a Worksheet on working with iMovie and creating a digital story. You will turn in your presentation (sent to me electronically) and your Works Cited pages with group members names.
Practice your presentation and time yourselves so you don't exceed 10 minutes. Have fun and take advantage of this opportunity to share your work with the rest of us!
Come visit Dara and me for ideas and help
Thursday, 11/15
"Engaged resistance: an indigenous form of aesthetic discourse that engages both Native and American cultural contexts as a mode of resistance against the ubiquitous colonial tendencies of assimilation and erasure. American Indian writers, filmmakers, and artists participate in engaged resistance through creative work and cultural production as a means of defiance but also as a source of connection to tribal ways of telling stories, representing images and animating the world" Dean Rader, 1)
"Aesthetic activism: defiance and rebuttal but also imagination, energy and renewal" (Rader, 2)

Literature as engaged resistance
Sherman Alexie (Coeur d'Alene/Spokane) poet:
A Serious Collection of Alexie Poems

Thanksgiving break Monday 11/20 - 23
week fifteen
Tuesday 11/27
Meet in Idaho Commons Clearwater Room
12:30-2:00pm: An Indigenous Feminist Perspective
With special guest Stephanie Waterman (Onondaga, Turtle Clan) University of Rochester

Thursday 11/29
Guest lecturer: Rudy Shebala (Navajo), horse expert and graduate student
week sixteen
Tuesday, 12/4
The American Indian Civil Rights/Red Power Era
Project proposal due: Your themes/concept, media and members
examples of engaged resistance
Dara's example from AIST 484: "Indigenous Feminisms: Patriarchal Colonialism and Indigenous Traditions"
Music as engaged resistance
Nez Perce jazz bands
1970s singer-songwriters and rock bands
Santa Fe Indian School Spoken Word Team
Round Dance

Thursday 12/6
begin presentations of final projects
week seventeen

Thursday 12/13
presentations/projects due: 12:30 - 2:30, ADMIN 336 (OUR TUESDAY ROOM)
All projects due at this time unless other arrangements are made with me


THANK YOU AND HAVE A GREAT BREAK!!
Film: Earth and the American Dream
"My Heroes Have Never Been Cowboys"

1.
In the reservation textbooks, we learned Indians were invented in 1492 by a crazy mixed-blood named Columbus. Immediately after class dismissal, the Indian children traded in those American stories and songs for a pair of tribal shoes. These boots are made for walking, babe, and that's just what they'll do. One of these days these boots are gonna walk all over you.

2.
Did you know that in 1492 every Indian instantly became an extra in the Great American Western? But wait, I never wondered what happened to Randolph Scott or Tom Mix. The Lone Ranger was never in my vocabulary. On the reservation, when we played Indians and cowboys, all of us little Skins fought on the same side against the cowboys in our minds. We never lost.

3.
Indians never lost their West, so how come I walk into the supermarket and find a dozen cowboy books telling How The West Was Won? Curious, I travel to the world's largest shopping mall, find the Lost and Found department. "Excuse me," I say. "I seem to have lost the West. Has anyone turned it in?" The clerk tells me I can find it in the Sears Home Entertainment Department, blasting away on fifty televisions.

4.
On Saturday morning television, the cowboy has fifty bullets in his six-shooter; he never needs to reload. It's just one more miracle for this country's heroes.

5.
My heroes have never been cowboys; my heroes carry guns in their minds.

6.
Win their hearts and minds and we win the war. Can you hear that song echo across history? If you give the Indian a cup of coffee with six cubes of sugar, he'll be your servant. If you give the Indian a cigarette and a book of matches, he'll be your friend. If you give the Indian a can of commodities, he'll be your lover. He'll hold you tight in his arms, cowboy and two-step you outside.

7.
Outside, it's cold and a confused snow falls in May. I'm watching some western on TBS, colorized, but the story remains the same. Three cowboys string telegraph wire across the plains until they are confronted by the entire Sioux nation. The cowboys, 19th century geniuses, talk the Indians into touching the wire, holding it in their hands and mouths. After a dozen or so have hold of the wire, the cowboys crank the portable generator and electrocute some of the Indians with a European flame and chase the rest of them away, bareback and burned. All these years later, the message tapped across my skin remains the same.

8.
It's the same old story whispered on the television in every HUD house on the reservation. It's 500 years of that same screaming song, translated from the American.

9.
Lester Falls Apart found the American dream in a game of Russian Roulette: one bullet and five empty chambers. "It's Manifest Destiny," Lester said just before he pulled the trigger five times quick. "I missed," Lester said just before he reloaded the pistol: one empty chamber and five bullets. "Maybe we should call this Reservation Roulett," Lester said just before he pulled the trigger once at his temple and five more times as he pointed the pistol toward the sky.

10.
Looking up into the night sky, I asked my brother what he thought God looked like and he said "God probably looks like John Wayne."

11.
We've all killed John Wayne more than once. When we burned the ant pile in our backyard, my brother and I imagined those ants were some cavalry or another. When Brian, that insane Indian boy from across the street, suffocated neighborhood dogs and stuffed their bodies into the reservation high school basement, he must have imagined those dogs were cowboys, come back to break another treaty.

12.
Every frame of the black and white western is a treaty; every scene in this elaborate serial is a promise. But what about the reservation home movies? What about the reservation heroes? I remember this: Down near Bull's Pasture, Eugene stood on the pavement with a gallon of tequila under his arm. I watched in the rearview mirror as he raised his arm to wave goodbye and dropped the bottle, glass and dreams of the weekend shattered. After all these years, that moment is still the saddest of my whole life.

13.
Your whole life can be changed by the smallest pain.

14.
Pain is never added to pain. It multiplies. Arthur, here we are again, you and I, fancydancing through the geometric progression of our dreams. Twenty years ago, we never believed we'd lose. Twenty years ago, television was our way of finding heroes and spirit animals. Twenty years ago, we never knew we'd spend the rest of our lives in the reservation of our minds, never knew we'd stand outside the gates of the Spokane Indian Reservation without a key to let ourselves back inside. From a distance, that familiar song. Is it country and western? Is it the sound of hearts breaking? Every song remains the same here in America, this country of the Big Sky and Manifest Destiny, this country of John Wayne and broken treaties. Arthur, I have no words which can save our lives, no words approaching forgiveness, no words flashed across the screen at the reservation drive-in, no words promising either of us top billing. Extras, Arthur, we're all extras.

Winona LaDuke, "Voices from White Earth" (text)
Winona LaDuke, "Voices from White Earth" streaming audio
Writing Response Assignment: Discuss what you believe are the crucial points of LaDuke's "Voices from White Earth." Identify as many course themes in her article that you can. If you disagree with her, be sure to discuss those points as well. Be ready to discuss in class!
_________________________________________________________________________
work from previous semesters:
Critical Thinking and You: A Guide to Critical Thinking
* What is Critical Thinking and why is it important?
* Avoiding Errors in Logic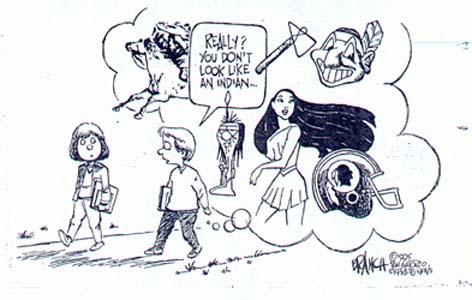 Check Schedule Often--It is Subject to Change and is Flexible--
R/January 11
Introductions
Presentations of first semester's themes and projects:
Wisdom Sits in Places, All My Relations, Circle of Life, and the Trickster

T/January 16
Understanding "race" and U.S. racial policies
Video: Race: The Power of an Illusion, Part Two: "The Story We Tell"

R/January 18
discussion of video
group activities: How were Native Americans affected by U.S. racial policies?
Circle of Stories: Storytellers
Nimipuu: Lewis and Clark Rediscovery Project

T/January 23
Adding a new course theme: RESILIENCE
1. the ability to recover quickly from illness, change, or misfortune; buoyancy. 2. the property of a material that enables it to resume its original shape or position after being bent, stretched, or compressed (American Heritage College Dictionary)
How do Native people express and demonstrate their resiliency?
Video: Nez Perce, Portrait of a People
assign Paper 1: Summary and Response (due 1/30)


R/January 25
Defining "Indigenous Aesthetics"
Kidwell & Velie, Chapter 6 Indian Aesthetics: Literature
Reading and responding to contemporary Native literature

T/January 30
Paper 1 due
Two more themes:
Between Two Worlds: This theme describes the intercultural experience of coming from a Native culture and worldview and suddenly being a "minority" in the dominant culture. What are the conflicts and challenges of living between two worlds? How do people negotiate these difficulties? How are clashes between value systems resolved? How does living between two world affect the individual's search for a personal identity?

Cultural and Personal Loss and Survival: Laguna writer Paula Gunn Allen writes, "The impact of genocide in the minds of American Indian poets and writers cannot be exaggerated. It is an all-pervasive feature of the consciousness of every American Indian." Native Americans have experienced tremendous losses since European colonization of the Americas yet they have not disappeared or admitted defeat. They continue to insist on their right to define for themselves who they are as they structure their lives from the fragments of the past and the present. How do Native people express loss and survival?

Video clips: World Heavyweight Poetry Champship, 2001 (Sherman Alexie v. Saul Williams)

Sherman Alexie: Poems: "13/16" "The Business of Fancydancing"

Form 7 groups and choose one of the following Alexie stories from Lone Ranger . . .:
"Every Little Hurricane," "A Drug Called Tradition," "Imagining the Reservation," "Indian Education," "The Funhouse," "The Trial of Thomas Builds-the-Fire," "The Lone Ranger and Tonto . . ."

The film Smoke Signals is on Reserve at the Library for anyone in the class who has not seen it.

R/February 1
Nora Dauenhauer (Tlingit), poem and video: "How to Make Good Baked Salmon from the River"
http://poeticsandpolitics.arizona.edu/dauenhauer/salmon.htm
Joy Harjo (Choctaw/Creek), "Anchorage"
Phil George (Nez Perce), "Salmon Return" and "Moon of Huckleberries"
Salmon Return
Like many Grandfathers before me,
I spear Salmon: splashing, flapping.
These echoing waters no longer your home.
Up Celilo Falls you will dance no more.
Cleansed, Grandmother will weave
willows into your needle-boned flesh.
Beside night fires you will roast—
Fat oozing, dripping, sizzling.
My people will not go hungry.
We fast. We sing. We feast.
May your spirit always live, my friend,
if even in the Moon of High Waters.
From saltwaters you swim upstream to die.
We remember: "Return home to die."
Moon of Huckleberries
Black Bear sang, drumming on a log:
"Come, bring your biggest baskets
To the best berry patches.
I'll show you."
"If you maidens get lost—
Just follow my dung,
Just follow my dung."
Black Bear sang, drumming on a log.
Sherman Alexie (Spokane/Coeur d'Alene), writer of Smoke Signals
Video clips from: PBS/NOW: Open All Night
"This is What it Means to Say Phoenix, Arizona"
from The Lone Ranger and Tonto Fistfight in Heaven

T/February 6
Assign Paper 2: Literary Analysis/Interpretation (see Guides to Writing about Fiction and Poetry under Resources button)
Elements of Fiction
Plot
Characters/Character Sketch
Setting
Themes
Conflict/Resolution
Stylistics

Using class themes and your own ideas, groups work on your story from The Lone Ranger and Tonto to present to the class on Thursday.

R/February 8
Present Alexie stories
Jeanette Weaskus (Nez Perce), "Never Dirty, Mostly Clean"
*Prepare questions for Ms. Weaskus

T/February 13
Guest Presenter: Jeanette Weaskus (Nez Perce), MFA Creative Writing, University of Idaho, current PhD candidate, English, WSU

R/February 15
Choose a piece from the Indian Humor site below and analyze it. Why do you like it? Tell us about the artist. Explain the themes and purposes of the piece. You'll present your analysis to the class on Thursday, March 1st.
Indian Humor at the Smithsonian
Doing library research
visit to the Writing Center


T/February 20
Paper 2 Due
Indian Aesthetics: Art and Expressive Culture
Kidwell & Velie, Chapter 7
**Prepare a key idea or question from the chapter and share with the class what stood out for you personally in the chapter (in writing--you'll turn this in)

Indigenous Motivations at NMAI
Native American Artists
Interviews with Native Artists

Northwest Native Artists
James Lavadour (Walla Walla)
Sarah Penney (Nez Perce)
George Flett (Spokane)
Jaune Quick-To-See Smith ISalish)
Quick-To-See Smith Exhibit
Another Quick-To-See-Smith site
Bunky Echohawk (Pawnee/Yakima)
James Luna, performance/installation artist (Luiseño)
Video: Jaune Quick-to-See Smith (Salish)

R/February 22
Guest Artist: Nakia Williamson (Nez Perce)
Poster image

T/February 27
Research instruction at Library: Meet at Library, 2nd floor classroom


R/March 1
Present Native Humor analyses (see assignment on February 15 above)
Discuss Research Papers

T/March 6
no class; use for research
R/March 8
No Class; use for research
T/March 13
Spring Recess
R/March 15
Spring Recess

T/March 20
Indigenous Aesthetics: Film & Video
On and Off the Rez with Charlie Hill (Native humor)
Read Indian Humor button upper left

R/March 22
indigenous film and video
Images of Indians on screen
Video: Images of Indians

How do Native artists address
Historical Trauma and Intergenerational Grief?

T/March 27
Paper 3 Due
2 short documentaries made by Nez Perce tribal groups (Tourism and Students for Success)
Surviving Lewis and Clark
Doing It?
Thursday's guest lecturer is in both of these films
Sapatq'ayn Cinema starts Wednesday night 7 pm, Free of charge, Kenworthy Performing Arts Centre, Main Street; fry bread for sale in front of the theatre Wed and Thursday nights.

R/March 29
Guest Lecturer: Angel Sobotta (Nez Perce)
Angel is a Nez Perce language teacher, artist and actress
She'll show clips from the film Lakota Woman

T/April 3
responses to Sapatq'ayn Cinema
Trudell (dir. Heather Rae; 2006)
"He is extremely eloquent. . . therefore exremely dangerous." --FBI memo

R/April 5
conclude Trudell
discuss final projects

T/April 10
Paper 4 (Film Festival) Paper Due
Contemporary Dance
Video: Ni Mee Pu: The Power of Our Dance (dir. Margo Aragon-Kinney)

R/April 12
No class: research final project; work with your group

T/April 17
Contemporary Native Music
Rockin' Warriors

project topics due: music or film
Assign self evaluation paper: see Paper Assignments #6
R/April 19
sources for those working with films, and especially films created (written/directed) by non-Natives:
Going Native: Indians in the American Cultural Imagination, Shari Huhndorf
Dressing in Feathers: The Construction of the American Indian in Popular Culture, Elizabeth Bird
Hollywood's Indian: The Portrayal of Native Americans in Film, Rollins and O'Connor
Celluloid Indians: Native Americans and Film, J. Kilpatrick

discussion questions:
"Ni Mee Pu: The Power of Our Dance" (Directed by Margo Aragon-Kinney)
Relate and briefly discuss the following key aspects of Ni Mee Pu dance: Social ties, renewal of community and culture, spiritual expression, connecting with the traditional, honoring ancestors, celebration.
What can you recall about the following types of dance? Round dances, owl dances, rabbit dances, war dances, duck and dive, prairie chicken-sneak up and shimmy, crow-hop.
What do the drums represent?
What is the importance of regalia?
How was it explained that the Ni Mee Pu want non-Natives to understand about dance? What does dance represent to the Ni Mee Pu?
In what way are women valued as an integral part of the circle of dance?
Can you recall the significance of the fallen-eagle-feather ceremony?
What are the strongest impressions you remember from the film? Can you relate your impressions to any of our class themes?
Rockin' Warriors
1. One of the German festival attendees said, "The best Indian is a German Indian." Why do you suppose Native American music is more popular in Europe and Asia than in the United States?
2. The tribal drum was explained by Tom Bee as harkening back to a universal genetic memory; every society around the globe, all our ancestral roots, from Celtic traditions to Africans, utilized the drum. The drum was described as primal, representative of Mother Earth, the center.
What do you think about this idea? Do you think this is an effective explanation for how the drum is not just a Native component of music?
3. Buffy Saint Marie commented on how a 3 ½ minute song extends an idea more effectively than a 400 page book. How do you view this statement? Can you expand on her notion of this?
4. Buffy Saint Marie also commented on there being no word for art in Native cultures—that everyone was an artist in the same way that loving children was a natural way of being. What did she mean by this?
5. Keith Secola said that any culture that isn't growing is dead. In what ways do you see this evident in Native music?
6. Like traditional stories are thought to be medicine, do you see music as a pathway to healing? Explain. Why do you suppose the film title used "Warriors" to describe the musicians?
7. Keith Secola likened the electric guitar to that of the advent of the horse. Can you explain what he meant by this?
List of artists portrayed in the film: Tom Bee. Keith Secola. John Trudell. Buffy Saint Marie. Susan Williams, Joy Harjo and Poetic Justice. Robert Mirabel. Joanelle Romero. Ulali. Blackfire. Song Catchers. Robbie Bee. XIT. Jesse Davis and Redbone. What aspects of musical genre, medium, instruments, link these artists? (ceremonial instruments, spoken word, traditional song, the blending of contemporary music with traditional, grass roots, tribal percussions). What aspects did you see as dissimilar?


Pah-Loots-Pu Celebration (powwow) at WSU, Saturday and Sunday,
Grand Entry at Noon and 7pm
Beasley Performing Arts Coliseum
'Wherever our drums are, and our elders pray for the ground to be a sacred
center for singers and dancers, there we stay alive. The songs remember
where we have been and tell us the good way to go on. Our steps are prayers
that we will go on in a good way. Every beautiful thing we make and wear,
as we dance, speaks of our hope and prayers -and when we powwow, we have a
good time.'
Carter Revard, Osage

T/April 24
Guest: Nez Perce DJ/Rapper DJTee (cancelled)
Alexie "movie Indian" poems and essay
R/April 26
from Celluloid Indians: Native Americans and Film
Introduction and Chapter 3: Cowboy Talkies
self evaluation paper due

T/May1
Presentations: 7-10 minutes with clear, specific and succinct analysis of film or music
Zak Sears
Lily Berman
Adrianne, Jolyne, Sandy
Shannon Reagan and Josh (Ulali)
Kyle Fullerton

R/May 3
Presentations
Wendy Peppersack
Ashley and Cade
Lucas Taylor
Grace, Skyler and Ashley
Britni and Nelda

W/May 9
Presentations 3-5 pm
Justin Pagel
Carson Work
Ashley Coyle and Justin Korn
Melissa Dick
Josh Warfield
Trevor Yardley
Lauren Paul